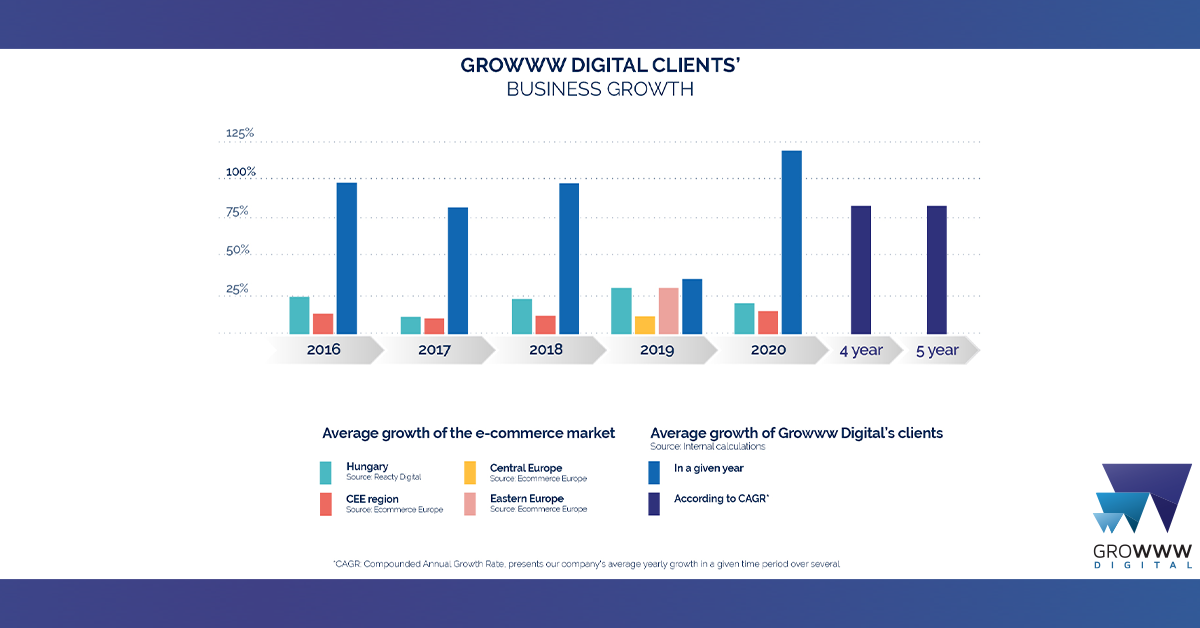 What is behind the 121% growth of our clients?
2021. Jan 29.
Reading time: 5 mins
As a growth-driven digital marketing agency, one of our most important indicators is how much growth we were able to generate for our clients on an annual basis. That is the reason we are very proud of the fact that our clients closed 2020 with an average growth of 121%. In our blog post we are going to look into how we achieved these results, several times higher than domestic and regional benchmarks.
Online shopping has grown radically.
As it turned out from MNB's quarterly reports, in terms of cash flow, online commerce was the clear winner in the protracted coronavirus epidemic.
In the second quarter of 2020, the annual growth was 43% in terms of the number of domestic transactions and 50% in terms of value. Meanwhile, for orders coming from abroad, the same indicators showed an increase of 18 and 12 %. Within all card transactions, the proportion of online purchases in terms of number and value exceeded 19 and 27 %.
In the third quarter of 2020, transactions in traditional stores increased by 10 % in quantity and by 16 % in value, while online purchases increased by 35 and 38 % compared to the same period of 2019. As a result, in the third quarter of 2020, 11 % of all domestic purchase transactions and almost 19 % in value were related to online orders. – can be read in MNB's report.
At the same time, the coronavirus has put businesses in a particularly difficult position in some areas. For example, at our partners in the field of tourism and the labor market, we could sense the trouble and help them individually to adapt to their challenges.
It is necessary to be able to step on the gas and to stop as well.
According to Krisztián Dunder, co-founder and business development expert of Growww Digital, in order to grow more than three times the market average, in the first wave of the epidemic it was necessary to step on the brakes in some respects and on the gas in others.
We have moved forward with most of our customers (specifically our e-commerce partners), increasing market share with sustainable growth in mind. The product categories related to long-term staying at home, DIY, garden, food and beverage and sport-goods performed above average, but also musical instruments and other products for home comfort produced exceptionally good sales.
The increase in customer KPIs above the average of 2020 was also felt in the B2B area: for example, our partner, Számlázz.hu increased its number of users by more than 200 thousand (!!!), 52% of which was also accounted for by the Growww Digital team.
Our colleagues supported our customers day and night in the field of brand communication as well: such as, we provided comprehensive social media management for Kifli.hu, and we helped to achieve its annual results with digital communication for Douglas too, who are now strengthening with us in these areas.
Accelerated development
László Szabó, co-founder, growth expert and export specialist of Growww Digital believes that in 2020, compared to the previous growth rate of online commerce, there was at least a 3-5-fold development due to the coronavirus.
As soon as it became clear that an extraordinary period was beginning due to the epidemic, we conducted a summary analysis of the sales and visit-data of our Central and Eastern European e-commerce partners. The results have been published and regularly updated on our website, the graphs showing the aggregated data of the 322 webshops operating in the region show the change in trends from week to week.
It also shows how important it was for ecommerce players to be aware of current market demand. For example, at the time of the restrictions, people were set aside for goods (mostly motivated by fright), followed by a period of compulsive online shopping (mostly because they couldn't do it in person).
Advertisers waited for two weeks in the first half of March, then the indicators stood out and market participants spent one and a half times the usual values. In the summer, there was a calmer period due to the easing of restrictions, but from September onwards, the second wave of the virus had a noticeable effect again, and during the Christmas season, the indicators practically stalled.
Many new shoppers have arrived in the market who have now experienced for the first time the convenience and security of online shopping. It was not a passing flare, they have been active in web stores ever since.And those who have bought online before are spending more time on online shopping than before. All this is due not only to fear and convenience, but also to a large extent to the fact that people in the FMCG sector have made great strides in online activity and new shoppers have also entered the market.
Regional e-merchants responded similarly. At first they waited and then they were committed to the service, so during this period they did not think of new shops and markets. At the same time, we see that 2021 will be the year of exports due to the stabilization of the situation.
In marketing, the main challenge now is to keep the customer base :we have to prove to them that the anticipated trust was well-founded. In addition, the higher level of operation of web stores requires more resources, so the winner of the next period will be the one who can put together the most outstanding team – be it employees, partners or even agencies.
Shifts in content-consumption
According to Alexandra Mezei, head of our social media and brand communication business, there have been significant changes in both shopping and content-consumption habits.
We experienced that the time period spent on social media channels has changed. In the past, evening hours were the most valuable: most commercially important audiences with purchasing power could be most effectively reached between 18:00pm and 21:00pm, while this period was even later for some special target groups (such as mothers with small children), who were the most active between 22:00pm-23:00pm. The epidemic situation and the home office have reversed this: most users are now available during business hours, from 9 am to 5 pm, because they can be online as long as they work and after working hours the evening is usually spent with the family.
Video contents performed outstandingly even before the epidemic, but due to the split attention and more textual noise it intensified even more. Infographics, gifs and videos could be distributed at a cost of up to 2-3 HUF/view, while gaining new visits became much more expensive, pricing from the previous 20-30 HUF to over 40-50 HUF (about 14 EUR cents).
Increased traffic has allowed many businesses to invest more resources in trying new content types or platforms. The number of live videos and broadcasts has also increased for brands that have not tried them before, and interest in TikTok's advertising opportunities has grown enormously as well. We also saw this at the TikTok webinar we held, where we experienced a record in the number of the audience.
Overall, the number of achievements and appearances has decreased due to more noise (Many brands have started using their social media platforms as news-feed channels.), however, the number and proportion of commitments has increased because fewer people reached were members of an audience relevant to the brand and thus were much more willing to commit.
Brands that dictate trends try to communicate more personally, intimately and in a more friendly way: they have shifted from sales and product focus to brand building, primarily through social responsibility. A good example of this is the communication of Kifli.hu, which we built on transparency, honesty and compassion as well, and the Content Marketing Awards 2020 rewarded our efforts with a Shortlist.
It is not worth it, leaving growth to chance.
We believe that this extraordinary period also proves that even above-average success can be achieved from a market opportunity if we respond to it quickly and use the right strategy- and we will continue to proactively assist our clients in this.