Hungarian e-commerce is growing above average!
2017. Jun 28.
Reading time: 2 mins
In 2016, the European e-commerce revenues rose to 530 billion euros according to the most recent report of Ecommerce Europe. This means a whopping 15% growth compared to the previous year, but Hungary is running ahead of Europe in this matter.
eNET Internet Research's latest report was presented at the 14th Hungarian Ecommerce Conference. The whole industry was looking forward to this, but the result was quite a pleasant surprise to everyone. Hungarian webshops generated 427 billion HUF (approximately 1,39 billion in EUR) turnover – an extraordinary growth of 34%, surpassing all expectations. Now, e-commerce is responsible for more than 5% of the total national retail trade volume, which is another significant milestone.

E-commerce growth won't stop
Growth is not expected to slow down, apparently. According to SmartCommerce Consulting, e-commerce turnover may rise above one thousand billion HUF in the next five years.
We are pleased with the rapid growth of the e-commerce market in Hungary. We believe that we have contributed to this success with our digital marketing agency, Growww Digital. This is also confirmed be the fact that the key performance indicators of our clients grew by 88% in 2016. This is much more than both European and Hungarian YoY growth rate.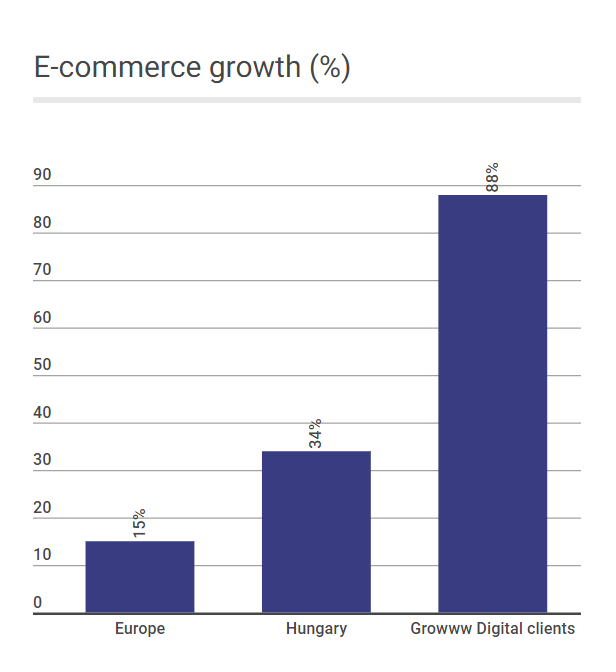 We are extremely proud of our clients as several of them have been awarded at the Hungarian Ecommerce Conference.
In the category of small and medium-sized enterprises, both the first and the second place was taken by Growww Digital clients:
I. place: Háda webshop
II. place: Petissimo
Congratulations to both, we wish you (mutual) success in further international growth.
In the category of large enterprises, otthondepo.hu made the Top 10, while Bónusz Brigád won the award for the best online video campaign.
Awards like these are important feedbacks from the industry and the users as well. We know that both our partners and ourselves in Growww Digital are working to make online shopping a better experience and a more prosperous business. To make that a reality, we will continue to work and focus on growth!